"SOULS OF THE COMO" with Charles Russell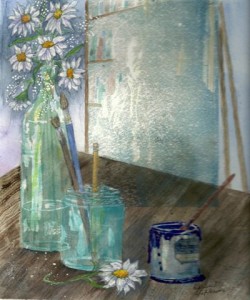 I represented the Arts Association of Montana last spring in an art show at the Electric City Coffee in Great Falls. It had special meaning for me as my Dad, Bill Carter, worked in that very building, probably around 1918 when it was known as the "Como Co". The Como Co. is where Charles Russell bought his art supplies and had his paintings framed. When I saw an article in the Great Falls Tribune that the Electric City Coffee was opening at 319 Central Ave., I checked my Mom's scrapbook and sure enough there was information and photos of the Como Co. at that same address. One of the photos is of Charlie Russell sitting in the back room of the Como, which he did often while visiting with the guys. Look closely at my painting and you will see Charlie in the back room of the Como Co. This is from a photo that belonged to my Dad. Also there is a photo of my Dad and three other guys who worked there – my Dad on the right and also my Uncle Dick Jones, 3rd from the right. The other two I can't identify but I think one may be the owner whose name was Carter Rubottom. I have a copy of a letter from Charles Russell in 1923 which was sent to my Uncle Dick Jones in 1923 mentioning the bunch at the Como Co. There I was back in the same building, displaying my paintings where my Dad worked framing art for Charles Russell so many years ago. This painting was sold at an art auction at Paris Gibson Square in Great Falls but prints are available. Most of the paintings that I displayed at that show included old family photos in the background. I enjoy doing this as it brings more meaning to my art. I also like to paint on vintage sheet music. Now that we are in Colorado, I miss the warm feeling of the "Electric City Coffee" and the "Como Co." where my Dad worked.
Trackback from your site.