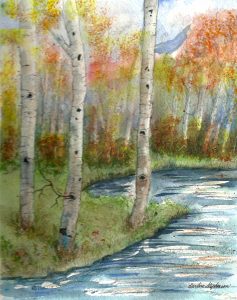 Hi from Loveland, Colorado.
 I moved here the first part of July to be near family.  As soon as I get settled, I plan to resume my painting and I am discovering that Loveland has a very active art community.  I moved here from Great Falls, MT where I was an active member of the Art Association of Montana and Studio 706.  My  work has been shown at various venues with both art groups, Paris Gibson Square, Great Falls Public Library and Electric City Coffee.  I have won numerous awards at the Montana State Fair.   One of my paintings was recently on tour with the "Montana Art Mobile".
In recent years, my style has evolved to incorporate old family photographs which hold a lot of meaning to me.  I have also done several commisions for others from their family photos.    Painting on old sheet music has been fun for me, using the music title to create the theme of the painting.
I have many originals works for sale, prints on already sold pieces and an assortment of note cards.
Darlene